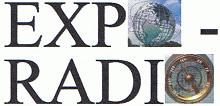 &nbsp Expo-Radio - The world of Internet Radio at your fingertips &nbsp
&nbsp

Listen to all your favorite
Radio Stations! &nbsp Free!



• No pre-roll video ads
• Fast connection times (less than 5 seconds)
• Record stream in mp3 format
• Save stream addresses in your favorite stand-alone player app for quick access


Click here to continue or choose a genre below.



Expo-Radio will be providing coverage of the 2019 Total Lunar Eclipse.
Click here for more info.
If you are new to the site, please take a moment and read our Terms of Service and Privacy Policy.
Contact Us
Creation Date: Dec. 6th, 2007